All about WordPress plugins
Introduction to plugins
ALTHOUGH WORDPRESS STARTED off as primarily a blogging tool, its open source nature soon led to it being used for a wider variety of sites. Now you can not only find your basic online diaries, fan sites and personal promotion pages but artist's galleries, sites for businesses and high-profile individuals all using the software. Part of the reason for this diversity is the plug-in system. While the default WordPress installation has plenty of features, bloggers and site owners are a varied bunch and have specific needs so it would be impossible for the WordPress developers to cater for all of their requirements. This is where plug-ins come into the equation, providing a welcome service.
"If you imagine your WordPress to be the meat and two veg, plug-ins are the dressing and dessert"
If you imagine your WordPress to be the meat and two veg of a meal, then plug-ins are the dressing, side salad, and dessert. There are nearly 20,000 different plug-ins available to add things such as a Facebook Like button, CAPTCHAs to stop spam comments, statistic counters as well as widgets to show your YouTube and Flickr streams. If you want it, it's probably available. While some plug-ins require you to pay to use them on your site, many that have been created are free to download from sources on the web.
Five Great Areas of the Plugin Page
The Five of the main features you will use on the plug-ins page are listed below:
Pre-installed plugins
Add New
Manage your plugins
Plug-in description and information
Visit the plugin's site
Pre-installed plugins
WordPress comes pre-installed with two plug-ins – one useful, one not so useful (but more fun!). Akismet is a comment spam blocker that works by comparing the text of a comment against known spam. If you think your site is going to be popular, it's a good idea to activate this plug-in. Hello, Dolly is a plug-in that when activated shows a random lyric from the Louis Armstrong song Hello Dolly on your admin page.
Add New
Clicking on this button will take you to the Install Plugins page where you will be able to search for and install new plugins. You can search for a plugin by name, author or tag as well as filter the plug-ins by Newest, Featured, Popular and Recently Updated. There is even a tag cloud so you can see what some of the most commonly used tags are. You can also manually upload and install a plug-in from a zip file.
Manage your plugins
Once you have installed some plug-ins you will need to turn them on before you can see them on the site. The manager enables you to activate/deactivate plug-ins by clicking on the text. Next to that is the edit button which will take you into the code view for the plug-in. Finally, there is the Delete button which will remove the plug-in completely.
Plug-in description and information
There is a handy, brief description here. The developer may also include other setting details and a link to the plug-in site, which is useful if you are having difficulty with it. Most WordPress plug-ins are free, although some of the more advanced ones do change, and quite often there will be a donate button here
Visit the plugin's site
Most plug-ins are developed by individuals or company's not directly associated with WordPress. On the plug-in information page, there is a link to send you to the website of the developers of that particular one. Quite often this can be a really useful source of information about the plug-in if you are having problems with it. It can also be a good way to find out what future plans the developers have.
Adding new plugins
WORDPRESS IS A mighty fine blogging tool, the interface is simplistic and easy to understand but still attractive. It's easy to install, it's easy to make new posts and it's easy to add and change your theme. It comes as no surprise then that it's just as straightforward to install new plug-ins. Within the dashboard, there is a plug-in section and then within that an Add New button. Clicking that brings up a nice interface enabling you to browse the huge selection of plugins available and you can search and filter by popular plug-ins, the newest releases featured or updated. The search is fully comprehensive and produces a plethora of information about the plug-ins available. Installation is simple; just click and wait a few seconds. The Add New page is your one-stop shop for expanding your site's potential and capabilities.
"Plug-in installation is simple and the Add New page is your one-stop shop for expanding your site's potential"
WordPress for Beginners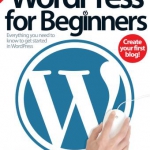 This eBook has been written by WordPress experts and enthusiasts to teach you how to set up an account, how the interface functions, and how to publish and customise your very first website.