Collecting information in person
According to the Ten Foot Rule, whenever anyone is within ten feet of you, ask her for her contact information. A warm body or a verbal conversation can equate to a captive audience for communicating the benefits of joining your e-mail list.
Always ask for permission when you collect information in person. Here are some ways to connect and collect without being intrusive:
Swap business cards. Ask whether that person's preferred e-mail address is on the card.
Place a guest book on the counter in your store or office. Keep a guest book in your car so you can ask people anywhere to sign it.
Place a basket for business cards on your table at trade shows and events. Make sure to place a sign on the basket that states your intent to send e-mails.
Collecting information through print
Adding sign-up information to direct mail and print advertising is a great way to help maximize your advertising dollars. You can use print to drive people to your Website or store, you can ask them to fill out a paper form and return it, or you can ask them to send you an e-mail requesting to join the list.
Here are some ideas for using print to drive people to a sign-up process:
Send a postcard offering an incentive to return the card to the store (such as a free gift or an entry into a drawing) with the recipient's e-mail address filled into space on the card. Be sure to explain your intended usage and also ask permission in the text.
Position your sign-up incentive to add value to your print offer. For example, you could print, "Free child's haircut with a subscription to our preferred customer e-mail list."
Add your sign-up incentive to the back of your business cards. For example, a discount dollar-store's business card could include, "Our e-mail list members save 10% more! Join online, in person, or by phone."
Purchase an intuitive domain name and place it in your print advertising to promote sign-ups. In the preceding example, the discount dollar store could purchase a domain such as www.JoinMyEmailList.com and point it to the sign-up form on the company Web site.
As you begin to formulate a strategy for collecting information, make sure that you write down your tactics and objectives. Having consistent messaging everywhere you connect is best. Namely, if you don't plan your entire strategy, you might find yourself mixing messages and confusing your prospective subscribers. Also, it will be difficult to diagnose your results if you have too many variables in your messaging and placement.
Collecting information through mobile devices
A quality e-mail list represents a very personal and direct line of communication with customers and prospects, and mobile devices represent an opportunity to easily collect e-mail addresses on-location. Building a quality list is also challenging because you need to make sure that everyone on your list wants and appreciates your e-mails. Otherwise, you'll be sending unwanted communications and inspiring all kinds of negative attitudes toward your business. (In other words, people will get mad at you.)
Before focusing on e-mail address collection through mobile devices, make sure you're ready to adhere to legal and professional permission standards.
All the following methods of mobile e-mail address collection are worth employing in your business. They imply gaining permission as an inherent part of the process of exchanging e-mail address information.
Texting in an e-mail address
Use your advertising to ask customers and prospects to text in their e-mail address. Here are two ways to ask for e-mail addresses by text message:
Ask people to text their e-mail addresses to your mobile phone number. If you don't expect a lot of volumes or can't afford a shortcode or text-messaging platform, this method allows you to accept e-mail addresses from people on your mobile phone and add them to your address book so you can send them e-mails. It's highly manual, and you have to share or advertise your own mobile phone number, so I don't recommend this method unless you can't afford better technology yet.
Ask people to text their e-mail addresses to your shortcode. A short code is a short phone number, usually four to six digits long. To enable this for your business, you need to buy or rent a shortcode and then you need to make sure your text messaging application is set up to populate your database with e-mail addresses sent by text. If you have a dedicated short code — one that you own — you can ask people to text their e-mail addresses directly to your shortcode. Your platform's database can automatically recognize the e-mail addresses and put that information in the proper database fields for you.
If you use a shared short code — one that you rent or share with other people — you need to ask people to include your keyword along with the e-mail address as in "text KEYWORD e-mail address to 12345," where KEYWORD is your shortcode keyword, e-mail address is the subscriber's e-mail address, and 12345 is your shared short code.
Providing forms on mobile Web sites
Your mobile Web site should include a sign-up form so people can join your e-mail list from their mobile phones. List the domain name of your sign-up form in all your ads (for example, www.yourcompany.com/sign-up). Keep your sign-up form short. Remember that the person signing up might be typing on a very small keyboard. Ask her for an e-mail address and a first name and allow her to select an appropriate list. You can collect additional information later.
Capturing addresses through mobile e-mail
Because e-mail is available on a lot of phones, your advertising can ask people to send an e-mail to a special e-mail address that automatically responds by confirming a subscription. For example, you might ask people to send an e-mail to subscribe@yourcompany.com. When you receive the e-mail, you can add that e-mail address to your database.
Make sure your advertising clearly spells out the fact that the e-mail address is used to sign people up for marketing e-mails and sets expectations for content and frequency. You should also set the expectations in a confirmation e-mail sent in reply to the subscription e-mail.
Using mobile applications to collect e-mail addresses
Some E-mail Marketing Providers have applications for your phone that help you to collect e-mail addresses when you're not in the office. That way, if you have your mobile phone on you, you can add someone directly to your e-mail database when he's standing right in front of you. An example of an e-mail address collection application. You can use mobile applications to collect e-mail addresses at
Networking events, so you don't need to take a business card and type the info later
Tradeshows, when you're walking the floor or working your booth
Your store, if you have a physical location and you interact in person
Your office, during an appointment
Deciding What Information to Collect
The two things you need to collect are only an e-mail address and permission to send someone a professional e-mail. Generally speaking, enlisting subscribers is easier if you ask for as little information as possible. You'll improve your results in the long run, however, if you make plans to gather increasing amounts of information over time — such as interests and personal information — as you interact with customers and prospects.
It covers the different kinds of permissions later in this chapter in the "Asking for Permission" section. In the following sections, you can find out what kind of information you can collect beyond the e-mail address to build a list.
Gathering essential information
Essential information includes an e-mail address plus any information that the customer or prospect expects you to know in order to send them information personally and professionally. Essential information comes in two categories:
Professional: This is information that your prospects and customers want you to know in order to send relevant business information. Examples can include
Preferred e-mail address
Product lines or services of interest
 Zip code (if you conduct events or have multiple locations)
Personal: This is information that you need in order to treat the prospect or customer as a human being with a name and feelings and needs. Examples include
First name
Opinions and preferences
E-Mail Marketing For Dummies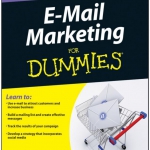 This eBook will teach you how to use e-mail to attract customers and increase business, build a mailing list, create effective messages and track results.