Shipping and Delivery Requirements
Online purchasing of goods and services has become very popular among people around the world. Due to the competitive market and convenience, people choose the online Purchase of goods. The range of choices, Feedback from other users, has influenced the Online buyers which are causing an increase in the number of Digital Buyers.
Around 1.79 billion people worldwide purchase goods online. Mobile shopping bought huge growth in online shopping activities. In 2017, retail e-commerce sales worldwide amounted to 2.3 trillion US dollars revenues.
There are different payment method among them Paypal is most popular among the online shoppers worldwide. More than 40% of online shoppers are using the Paypal payment method. Credit Card is another way of payment method, which is used by 31% of digital buyers. Stripe is another payment method to buy online products.
Shipping and Delivery
With the rise of e-commerce, the shipping and delivery have become the most popular. Many people don't see the difference between these words but in reality, their meaning is completely different.
There are two main definitions of shipping when it comes to logistics. The first definition speaks to the size of the package. Smaller objects, such as shoes, clothes, and accessories, can fall under the category of shipping since they can be boxed and sent to the customer using a postal service. The second definition refers to when items are required to be sent to customers. As such, consumers can understand the shipping date to be the day on which the item was dispatched and began making its way to them.
Common Shipping Requirements
 Commercial Address
Delivery/Unloading Service
What Is Delivery?
Delivery often refers to larger objects, like major appliances and furniture, which require installation or a delivery person to fetch it inside your home—items that need to be delivered are usually too big to be shipped. Delivery is also the term used to refer to the date on which the package will arrive at the customer's doorstep. However, this date is usually a general estimate since it's uncontrollable by the vendor and can be delayed by unforeseen circumstances.
Common Delivery Requirements
Delivery times and Cost
Returns Policy
Shipping and Delivery Requirements for a Digital Shopper
Cost Effective
There are different approaches involved in the cost of shipping products. Many online shops provide free shipping as they add 30% value in the products. Free shipping increases online sales.
Shipping Times
Standard shipping time is used by the 96% of the customers. Digital buyers don't want to wait too long for the product. The gap between consumer expectation and retailer capability is growing. It's hard to keep up with the expectation of free shipping, same-day shipping, express shipping, ship-from-store…the list goes on and on. The fact of the matter is, the future belongs to retailers who look at this as an opportunity and turn shipping and fulfillment into a retail weapon.
Companies are trying to deliver products as fast as possible to give different shipping alternatives. 82% provide the 5 to 7 business day standard shipping, and while 75% of brands offer express shipping (1 to 3 days), 53% have a 1-day shipping option. Only 20% of brands provide hyper-local choices.
Reliability
Reliability is the most powerful requirements for shoppers and the providers. The key to the trustworthy shipping service is identifying by the reliability of the most reputable companies. Shoppers already hold retailers responsible for the shipping process, and being able to depend on a company for delivery at the right price, date and time is the cornerstone of providing reliable shipping.
Since choosing such a company can be a challenge, especially if you've never used a shipping carrier, here are a few key points to consider prior to selecting a vendor. Shipping companies wishing to improve their services may also benefit from these points.
Shipping Cost
Packaging
Customer Return Policy
Growing Demand
Rules
Negotiations
Strategies
Tracking the products
Tracking of the products helps to gather information about the product during its shipment. It's hard to understand shipping process 97% people want to track their orders. More than 85% are tracking the order online or via their mobile device;  of those, 76% expect regular SMS updates.
Easy collection of products
Easy collection of the products gives satisfaction to the customer. 85%of the customer wants to be able to click-and-collect. Depending on the nature of shipping Shoppers can collect the products. Nowadays Door Shipping is trendy.
Click and collect
Click and collect is a hybrid e-commerce model in which people purchase or select items online and pick them up in-store or at a centralized collection point. The hybrid model is designed to streamline the processes involved in making in-store purchases and payments. Click and collect can save a significant amount of time when a customer is purchasing a lot of items.
For larger or more expensive items, centralized collection points can make a delivery to more locations possible by serving geographic areas at some distance from the retail facilities. It may be feasible, for example, to deliver multiple orders to a collection center serving a given area periodically when delivery to individual customers would be too expensive.
Online sales of groceries have recently accelerated and, according to some studies, 25% of shoppers have tried buying groceries online. It is the convenience of not having to push the shopping cart between the shelves and not having to wait in line to pay that attract customers to online shopping. But there are reasons why online sales of groceries still have not completely exploded.
Building E-Commerce Solutions with WooCommerce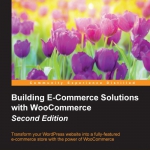 This book has been written for everyone who wants to learn how to expand an existing WordPress website with e-commerce functions using the WooCommerce plugin.